Dylan Marvil
is described as a red-head with emerald green eyes who is taller then the other girls. Her weight obsession leads to a constant string of various diets, but somehow, they never work out. She isn't really fat or anything like that, she is just insecure sometimes.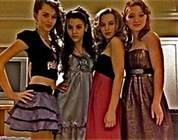 | Dylan Marvil | |
| --- | --- |
| Father: Unknown | |
| Mother: Merri-Lee Marvil | |
| Birthday: Unknown | |
| Screen name:BIGREDHEAD | |
In The Pretty Committee Strikes Back, Dylan has a major crush on Chris Plovert, a boy on crutches (a.k.a. the "gimp"), but her crush ends after she realizes that he likes Olivia Ryan. Later on, however, with the all-telling ESP power acquired from the "room" she learns that Chris and another boy, Kemp Hurley, have secret crushes on her.
Dylan's mom hosts a famous TV show that makes them rich,
The Daily Grind
. In
Dial L for Loser
,
the Pretty Committee
goes to the set of
The Daily Grind
to meet their favorite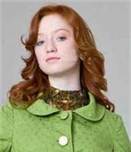 celebs. Dylan isn't allowed to try out for the loser becuase she was the reason Abby Boyd Dylan is "The Insecure One."
Fun Facts!Edit
~ Dylan met Massie, when Massie told her she looked fat.
~ Dylan has two sisters Jamie and Ryan
~ Dylan is the youngest.
~In the tale of two pretties, Dylan's reason for not being able to do Friday Night sleepovers is filming for her family's new show.